September 18-19

Off early to JFK to accommodate the requested three hour buffer for security before our Olympic flight. No lines, of course, so we were checked in and were into the business lounge within five minutes. Boarded at 5pm. Nice Airbus 340 configured with no first class so our business section had the whole front of the plane. Huge BA-style seats, footrests, personal TVs. Smart service too: drinks and dinner served together about an hour into the flight, then lights out. I slept for a good six hours. Larry dozed. Breakfast around 1:30am NYDT, then on the ground at 3am - oops, now 10am Athens time.

Easy immigration then a long cab ride to the hotel through sand-colored commercial areas. Hotel Jason Inn is great, three-star style. We have a smallish room, three single beds, high ceilings, built-in cupboards, TV, sliding door onto a tiny balcony with the Acropolis in view over rooftops. The bath is all tiles, drain in the floor, big shower area with sill and hand shower. All very cozy.

We napped for a couple of hours, then struck out around 2:30 for the Agora, about five blocks away. Mostly ruins, of course, but the Temple of Hephaistos is complete and appealing. Wandered around then on to the Church of the Holy Apostles (10C AD) which was charming and serene with patchy ceiling frescos and wall paintings discovered under later plaster. A reconstructed stoa - wow, they were impressive - houses a museum which includes my favorite artifact: a 6th C BC child's potty-chair. Then we strolled up the hill in 80-degree sunshine to the "Hill of Curses" or Areopagus where St. Paul worked Athens over. Quite a scramble up the rock steps which have been polished to skating rink slipperiness, but an expansive view of the city from the top. The speaking area was probably on the lower Acropolis side.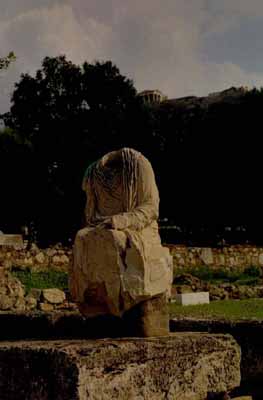 Then we strolled along the streets midway up the hill of the Acropolis toward the old city Plaka area. Stopped at a lovely Orthodox Church of St. John all candles and icons, then rambled along through old narrow streets to the café-filled tourist Plaka-central square. Looked too honky-tonk for our tastes so we went back to a quieter taverna higher up that spilled through a whole complex of terraces, sidewalks, buildings and crossings along the hillside. Had a wonderful dinner where "Laurence Oliver and Viven Lee" once ate. The authenticity may be dubious, but the red house wine in a clay pitcher was delectable. Sitting on a flower-draped terrace, gazing at the cityscape, sipping wine with my honey is just divine.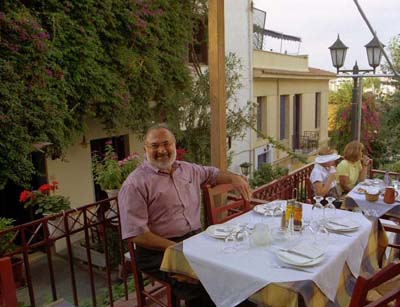 Strolled downhill back to the hotel, flipped on the air conditioning, and slept for fifteen hours.
Friday, September 20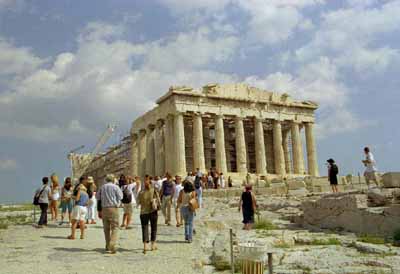 Awake at noon (yawn) then out again into another beautiful clear day. Found an ATM then strolled up to lunch at a taverna terrace overlooking the Agora. On up the hill, past the Areopagus to the Beule Gate into the Acropolis proper. Up through the Propylaia onto the mountaintop. It must have been a mammoth building with an enormous archway in the center. Everything is along the side of the hill, so you approach walking up steep steps looking further up through this massive gateway. Quite the spectacular entrance even today. Around the Erechtheion (temple to both Athena and Poseidon) with the caryatids, around the massive Parthenon, over to the modern outlook point. All in lovely sun with a clear view to all horizons. None of the much-warned-about Athens smog. This is charmed weather.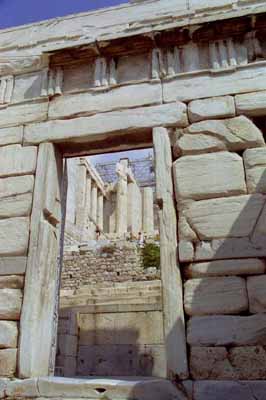 Most areas of the Acropolis are well protected by roped off areas. The pathways have been smoothed somewhat for modern safety. Everything is in the process of being restored. I approve: the more complete the ruins, the more I can marvel. All in a non-intrusive, harmonious style. I'm impressed. Being totally authentic leaves me staring at a bunch of rocks on the ground.
Slow wander back down to the hotel with a stop for tea in a cramped little square filled with café tables. Joined the group for drinks on the hotel rooftop at 7pm. Nice to see Dag and Maria again and the group looks mature and congenial. Connie Pratt from the Alaska trip and her husband Lee, Rusty Gutwillig a tough corporate veteran from Long Island, Tom Lucas, a lawyer from the Seattle area, and Tanya our young local guide. Strolled as a group to the Plaka for dinner, followed by a nighttime scramble up the Areopagus, slithering down in skirts and Tevas. Then a pleasant promenade back down through the student café area to the hotel.

Saturday, September 21
Friday night is apparently party night in Athens: there was a energetic gathering down the block that kept our windows rattling until 4:15am. Less sleep than we wanted, but our fifteen-hour nap on NY time probably didn't help us adjust either. Breakfast at the hotel then an endless mini-bus ride to Lefkada, finally arriving around 5:30 in the afternoon. Fun sights along the way included the Corinth canal cut through the isthmus in the 19th C. It's 6 km long, 90m deep, 8m of water, 23m across. An engineering marvel I'm sure, but also simple and beautiful. We stopped for lunch along the way and a ferry ride, but mostly it was just lots of riding.

Our mothership, the MS Venetia, seems cozy and warm. Small double cabins with bunk beds, good deck lounging, pleasant sitting and dining area out back. Not as luxe as Starr's boat in Turkey, but very pleasant. Lots of wood, lovingly tended. Our cabin is small but has drawers under the bunk beds, a closet, and wall hooks that just about take care of all our junk.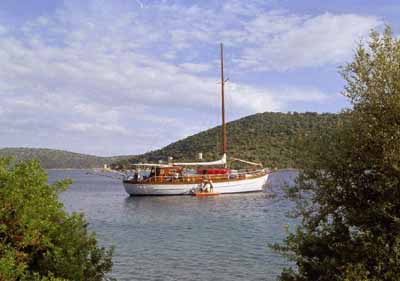 Folks scurried out into town to get the necessities - wine, water, snacks - led by Tanya and followed quickly by Larry and Captain Tassos. Once provisioned, we motored briefly to a little harbor, then anchored and enjoyed a lovely dinner on board prepared by Spiridoula (they're a couple, both licensed as captains, but he's "retired" and collecting social security, so she's the captain in charge for the record.) Good conversation, good wine, much food, brief thunderstorm, then a full moon. Bed around 10pm in our cabin. While we both fit into the lower "double" bunk, there's not a lot of maneuvering room so I adjourned to the upper bunk, a narrower little cubby exactly 5'8" long (I can tell!) Good sleeping.
Sunday, September 22
Breakfast before eight, then a brief motor past Onassis' island Scorpios. Apparently he always stayed on the Christina, never in the island house(s). Well tended and manicured, but very little to see from the oceanside. Most of the facilities are hidden. What an awful burden to live under.
Into the kayaks -- flat top doubles -- complete with the first day messing around and delays. Actually started paddling around 11am. First across a channel, then along the shore of Lefkada Island. Mostly low stone bluffs, then trees above. Glorious sapphire water, maybe one-foot ("one bottle") waves but they grew into 2 1/2 foot chop with echo from the shore. Bouncy and fun. Mild with hazy clouds shielding the sun. Dag took us into a glorious cave, low arch entrance (duck!), a big open chamber, then a smaller hourglass chamber at the back. The light was magnificent and magical, glowing up through the water and glittering like jewels with any splash or movement. The swirl of bubbles from a paddle stroke was iridescent champagne bubbles. Delicious.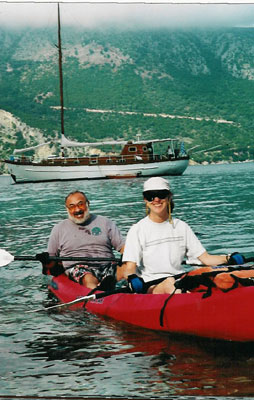 Back out and paddling around a point life got harder and harder. We just couldn't steer, couldn't make headway, seemed very tippy, and got cranky. We finally struggled up to the others asking if we were dragging something and realized, oops, we were sinking. Larry was sitting at the waterline and going down fast. Quick paddle with Dag to the Venetia where we offloaded pronto. We then stayed on board while the others paddled for another 45 minutes or so till we anchored and had lunch. As best as we an figure, there must have been a split in the plastic hull that let water into the core of the kayak.

We motored to Szoka, a small sheltered village and took a medium walk up the hill to admire wild olive trees and the harbor views. Should have been an easy stroll if not for the thorn bushes all along the way so not as much fun as we'd have liked. Back down for coffee and tea at a cafe and a stroll through town. About six blocks of harbor side tavernas and general stores facing a line of rental sailboats. Pleasant, but I like our traditional khalicki Venetia better.

Left the harbor in late afternoon and motored across to Cephalonia, about a nine-mile crossing. Good four to five foot swells so a fun, loping ride from up front. Landed in a boom town that's built up in recent years and was featured in the Captain Corelli's Mandolin movie. Built "Disney-perfect" for visitors, but a nice feel all the same. Dinner at a non-resort-y place by the harbor. Seemed pleasant, but everything was fried so it got bad reviews from the group. Some strolling, then back on the Venetia around 10:30. A big party boat had pulled in next to us so we motored off to a little cove and parked in privacy next to a beach and fish farm.

Monday, September 23
Happy anniversary! Up for breakfast then into the kayaks. We started paddling out of the cove into a direct headwind that had us pretty much stopped cold before we even got out of the cove. Dag called us all back and swapped the paddle for a walk up the hill. Nice road walking and lovely views of the channel where the chartered sailboats were struggling into five foot plus waves and wind. For us, lunch on board then a lovely bouncing ride over to Ithaca. We started on the front deck, but were driven off by spray as we got to the open crossing. We had one adventure midway when there was a huge BANG. Capt. Tassos stopped the engines, crew (and Larry) ran all over to see what we'd hit. Much concern until we realized that the lid on the barbeque grill on the cabin roof had blown open with a clang.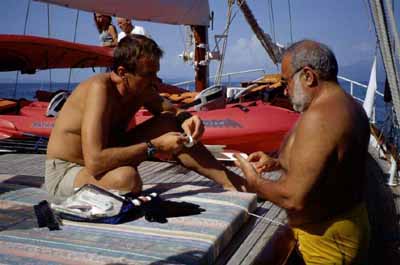 On to Frikes, a small town with four or five restaurants along the harbor front. Took a nice walk up the hill on local roads to a small village on the saddle of the island ridge. It purports to be Odysseus'' birthplace. Pictures of the statue and map of the Odyssey route then tea, coffee and baklava at a cafe looking out over the far side of the island. Storm and wind threatening, but never quite arrived. Back down and then off to dinner on the waterside. We'd been feted at lunch with a wonderful chocolate cake with sparklers and the conviviality continued at dinner. Nice day.

Tuesday, September 24
Real paddling today. Weather is dryer and less humid and the big storm stayed fifty miles away. Into the kayaks around 9:45 and paddled out of Frikes headed for Vathi -- Odysseus' home port. Brisk paddling into a medium wind along stony shoreline. The wind kept blowing us off course -- and Larry was complaining about the flattop's puddle of water. After about an hour we pulled into a beach and Lee headed back to the Venetia. The rest of us swapped around: Larry was happily installed in a single, I got to paddle with Maria, and the rest of the doubles fell in line.
We paddled another hour or so then crossed an open bit into brisk headwinds to the harbor entrance at Vathi. I was wilting, but we all paddled a couple of miles down the long inlet and arrived on the harbor jetty a-kayak.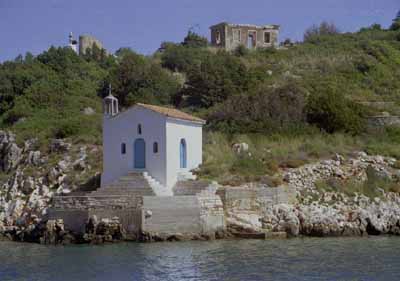 Good lunch on the waterfront, but everyone was a bit tired and cranky so afternoon was devoted to showers and naps. Dinner on the waterfront after a stroll up to the hillside church and view.
Wednesday, September 25
Notable thunderstorm during the night which meant moving the boat out of the cramped mooring to more open water. Late start with a stop at the Folklore Museum. It was a rather odd tour since the storm had knocked out the electricity. A morning hike was dumped in favor of strolling around town, shopping and basking. (Everyone needed a bit of a break from the group-ness.) We ended up with a pretty pottery bowl after a display platter broke in Larry's hands as he pulled it out to see it closely.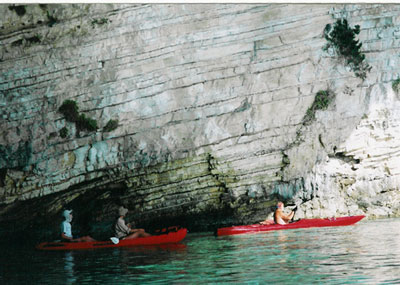 Motored to Atokos which is uninhabited, though apparently infested with vermin. It was dubbed "Ratakos" on an earlier trip when they'd camped on shore. Moored at a pretty beach then paddled all around the island. Rough shoreline with tilted layers of stone like stacks of toast, jewel-like blobs of polished flint embedded in the rock, hanging trees, and a wonderful cave. Back on board for a dinner prepared by the barbeque team of Dag and Capt. Tassos.
Thursday, September 26
Started with a paddle that was supposed to be lazy and easy back around to the caves on the back side of Atokos. Larry snagged a single again and I paddled with Connie who turned out to be a perfect match. We paddled close to the shore and hung right with Dag. Had a lovely tour through a capacious cave and hollow, then continued on towards the "real cave." Ran into significant wind and five foot waves. I was quite proud to be able to handle the paddling and steering comfortably. Connie and I were actually able to make (some) headway against the wind. We pushed on for maybe ten minutes with very little forward movement before Dag ceded to the group's paralysis. We turned around -- quickly! -- and paddle-surfed back to a bit of beach to wait out the wind. In the end it didn't really let up so we paddled back to the Venetia with a helping tailwind and a lot of fun.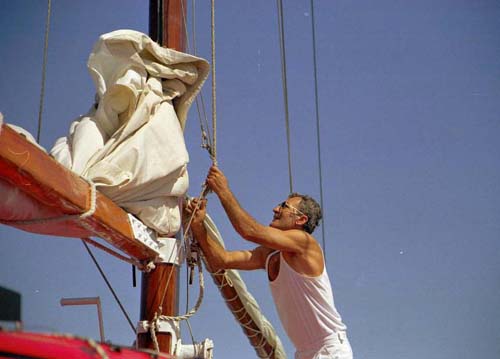 Lunch on board, then we headed to Kalamos, maybe ten miles away. Luck was with us and we were able to make the crossing under sail, no throbbing engines, just smooth bobbing under the gleaming white sails. Moored in a little inlet and took a 5k walk along the road up up up (like an Escher painting with no descent) gazing at the expanse of islands and channel before heading down -- followed by a herd of goats -- to the village.
Classic village spilling down the steep hillside, many houses being renovated, flowers, generally lovely. Dinner at the harbor taverna before turning in after a perfect day.
Friday, September 27
Breakfast then a truly lazy paddle from our mooring back to the village, then a short crossing to paddle around Kastos. I was with Connie again and the whole group went so easily in perfect conditions: no wind, moderate temperatures, Larry doing sea lion calls. We paddled beyond our planned stopping point and had to call Venetia to come chase us. Probably quite a long outing but it seemed like a stroll.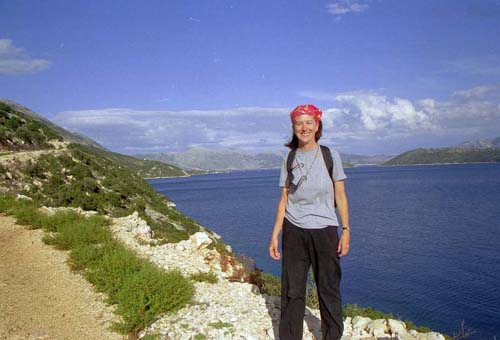 Lunch and lazing, then an easy paddle -- with Tanya this time - to the village, maybe two miles along. Walked up to an abandoned windmill, then stopped for beers at a cafe on the way down. Proprietor had lived in Astoria, Queens, then retired back to Kastos. Small world.

Back on board for a farewell feast concocted by Capt. Spiridoula. Larry made the tip presentation graceful and heartfelt. The evening then moved to dancing with crew seaman Mikhail and Larry leading foot slaps and two footed leaps. Lee, Tom and Dag joined in for fun. I did some line dancing and Tanya paired with Capt. Tassos, but couldn't keep up. A lovely wrap up.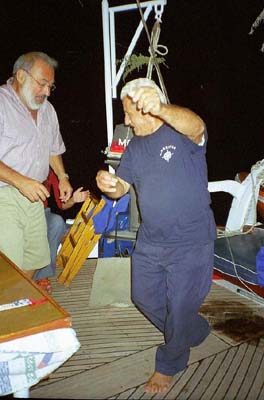 Saturday, September 28
Early wakeup and breakfast on board as we motored to Metikos. Mini bus was an hour late, but we eventually hit the road, getting to Delphi three hours later. Well informed, if mannered, guide. Nice haircut. We skipped most of the museum except for the regal statue of a charioteer displayed in the place of honor and focused on the outdoor sites instead. All interesting, but not powerful and somehow a letdown. It doesn't seem like a power spot now. A quick stop down the hill at Diana's temple which was overrun by a Bulgarian tour group jumping over the barriers to be snapped as "Athena."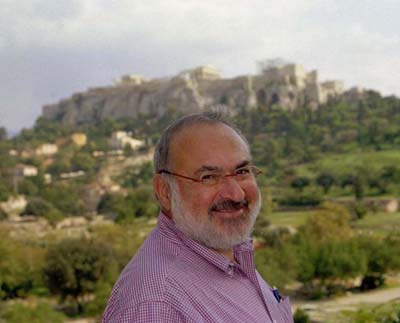 On to a blissful shower back at the Jason Inn in Athens. Dinner with Maria, Dag, Tanya and Rusty. The others bid farewell at the hotel and prepped for very early flight departures. We navigated back to the taverna Larry and I had eaten at the first night. All enjoyed a good evening as the guides began to go "off-duty." A good dinner then off to bed. Breakfast then flight 411 at noon back home to the Big Apple.