London
November 2004
Thursday, November 4

Daytime flight with bulkhead seat and pleasant Kevin sitting on the aisle. Longish wait going through immigration since they have very few agents on at the quiet time. Tube to Amsterdam Hotel just by EarlÕs Court. Typical converted row house, tiny room, but everything painted in light fresh colors, good lighting (!), Caribbean color linens and drapes. Very cheerful. Tiny bath with hand shower in corner. ThatÕs a disappointment Š I always hope for a tub, but at these prices, itÕs a bit much to hope for. Snacks and tea, then a good sleep.
Friday, November 5


Up 9-ish for a simple continental breakfast in the light, cheerful breakfast room downstairs. Staff mostly Chinese. Left a message for Jennifer then headed over to Leicester Square for tickets to Little Women. (Seems both easy on the jet lag and well-reviewed.) Over to Covent Garden for some strolling around and a satisfying jacket potato and cheddar lunch in the plaza. Walked back to St. Martins in the Fields for a lunchtime concert of early music, mostly Telemann. Had a chat with Jennifer and planned to meet tomorrow, then picked up some books at WaterstoneÕs, walked as far as Green Park, then tubed home for a nap. Comforting dinner at Zizzi in EarlÕs Court then on to the theater. Nice fun; very true to the book and left me sentimental and sniffly.
Saturday, November 6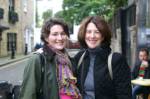 Jennifer called this morning Š the hotel folks were nice enough to come find me in the breakfast room. Met Jen and Peter at the little French patisserie near their old digs in Courtfield Gardens. Good breakfast and conversation. Jennifer is ALL baby; to just see her quickly coming down the street, she didnÕt even look pregnant. Up close, of course, her face is rounder and thereÕs the appropriate baby spread, but she looks great. They headed off to do errands and I tubed off to TKTS. Strolled along Regent St. and had lunch at the ShakespeareÕs Head pub on Carnaby St. Walked back through Soho and on to the theater for JourneyÕs End. Excellent WWI trench story, apparently a revival though I didnÕt know it. Straightforward production that delivered the full weight of the tension, boredom, randomness. Afterwards strolled up to Tottenham Court Road and tubed over to Kensington High Street hoping to catch mass at the church there. No luck on timing, so headed home and had dinner at Ivory, the Japanese place just opposite EarlÕs Court Station. Home early to TV and sleep.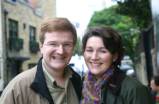 Sunday, November 7
Met Jennifer, Peter and mom Beth back at the Patisserie for breakfast before heading off to church with them at Grosvenor Chapel. Lovely mass with Fr. Simon Hobbs who married them and who IÕd met last year. Walked back through Hyde Park, nice as can be, but Jennifer was completely exhausted so I passed up the chance to see their apartment and left them to get some rest and family time. Lunch at a pub in EarlÕs Court, then took a long walk with the vague idea of catching a movie. Walked up to Kensington High St., down QueenÕs Gate to Fulham Road (movies sold out), then around to EarlÕs Court and home. Lovely veg-out nap, then went out to dinner at Balans on Old Brompton Road. When I first got settled I looked around and realized I was the only woman in the place; thought IÕd stumbled into a gay bar. But some other women came in, staff was terribly solicitous and my dinner was fantastic. Home by 8:30 to laze and tuck in.
Monday, November 8
Breakfast, email, then to TKTS where I was able to get Sweeney Todd for tonight. Strolled through Covent Garden and had nice pub lunch at Marquess of Angelsey pub. Tube over to St. PaulÕs, walked over the bridge to visit at the Globe and the Tate Modern.
Drizzle began seeming like rain, so I walked along the South Bank to Westminster and tubed home to read. Dinner at a family Italian on Old Brompton Road with soso food, but friendly, fatherly service from the padrone. On to Sweeney Todd, an interesting studio-scale production where the actors doubled as (very professional) musicians. End result was appropriately creepy, but the drama and singing were short-changed. (E.g. a newbie wouldnÕt have understood that Lucie was the Old Woman, or that Johanna was disguised and killed.) Still I wallowed happily in the music and the entire score.
Tuesday, November 9
| | | |
| --- | --- | --- |
| | | Up sort of early to get to Donmar Warehouse to get standing tickets for Hecuba. Walked around, then lunched in the crypt restaurant at St. Martin's, then went upstairs for a wonderful recital of Bach cello suite and Debussy piano/cello sonata. Walked home as far as South Kensington then jumped on the tube for the last lap home. Had tea with Jennifer and Beth around 4:30. Love their new flat, it's so fresh and a quality renovation. The layout is funky, but works. You enter on the fourth floor to a foyer with a den, bath, baby bedroom and master bedroom. Steps go up to the next floor to a large living room opening into a good sized kitchen. |
The whole wall of the living room is French door/windows looking out over the gardens in the middle of the square. So bright and cheerful. We chatted happily over tea, until Jennifer fessed up to feeling wretched, maybe even first hints of labor, but certainly the discomfort of being within three days of her due date. Her mom was so low-key and sensibly reassuring. She'd be just the right person to have around during health events! I left around 6:15, their first non-family visitor and maybe the last pre-baby visitor.
On to the theater for Hecuba after a quick panini. ItÕs had enthusiastic reviews, but I found it Ōway too Ņdramatique.Ó Too much hoarse sobbing and wailing and gnashing of teeth. Impressive, but not acting to my taste. Will probably be coming to NYC this year.
Wednesday, November 10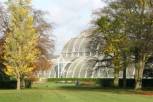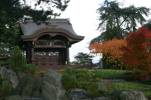 Lazy morning then over to pick up tickets to the current Lloyd-Webber, Woman in White. Then I tubed out to Kew Gardens, which was a great choice for a nice day. I had a ball. Crystal Palace, palm tree, pagoda, Japanese wooden house, riverside, the whole thing. After lunch IÕd hoped to walk along the river to Richmond, but it looked a little too deserted so I jumped back on the tube and got there that way. Strolled along the global-brand-shopping street and then down to the river. Fun. Home after a cup of tea then dinner at Zizzi. Woman in White was disappointing: no big songs, clever but boring sets (all virtual reality projections), plot outline but no character or development. Even the occasional melody snippet would turn out to be a quote from earlier Lloyd Webber efforts. Too bad. This one is, of course, coming to NYC.
Thursday, November 11
Up, breakfast then pack. Sat quietly for the 2 minutes of silence at 11, then took a walk, had lunch at Balans, dropped off some silly Body Shop gifts for Jennifer and Beth, then tube to Heathrow. Killing time, boring flight, then safely home to Tudor City.
Note: Spencer Peter Charrington arrived on Wednesday, November 17.